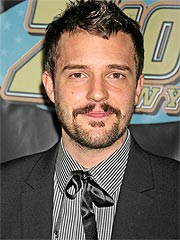 The Killers second album,
"Sam's Town"
, isn't viewed in too much of a positive light amongst the music press and fans. It's generally viewed as an overblown Springsteen-esque piece of Americana, accompanied by an unfortunate bit of facial hair (which has now been thankfully consigned to the rubbish bin of image overhauls)
Their debut
"Hot Fuss"
was critically acclaimed and popular with the part of the public that still buy CDs, yet a little one sided. The first half of the record was packed with what the Lacoste-wearing masses call "choons"; electro-indie-pop classics such as Mr Brightside and Somebody Told Me. Yet the second half was pretty much 5 tracks of filler, which only the hardcore fans could name/sing along to. And shortly after "Sam's Town" was released, the general consensus was that The Killers had followed the same route of an album of half great songs, half barely b-side standard.
But now, 2 weeks before third album "Day & Age" is released, I think it's time to take another look back at ST. The need for a run of classic albums from every new band seems to cloud most critics and fans perceptions of new LPs. If it's not a
"Morning Glory"
,
"Favourite Worst Nightmare"
or
"A Grand Don't Come For Free"
, then it's derided as a
"Give 'Em Enough Rope"
, a
"Yours Truly, Angry Mob"
or even worse, a
"Second Coming"
. Not that those albums are bad, just that they don't match up to the amazing/brilliant/zietgiest-defining debuts.
Beginning at Track 1 (which is always helpful), the title track of
"Sam's Town"
is a whirlwind of melodramatic rock 'n' roll, placing you straight into the retina-burning world of The Killers hometown, Las Vegas. Subtlety has never really been a part of their vocabulary, and here the word is seemingly erased from existance with almost everything but the kitchen sink thrown into this one track. It may appear cluttered, but it definitely works. But in the most direct of contrasts, this is followed by the first of two -ludes, Enterlude. A simple 50 second intro to the rest of the album, it may seem rather pompous to include Enterlude and its sister song, Exitlude, but yet again, it works to a tee.
Apart from these two, the album is pretty much the same melodramatic pomp-rock experienced on the title track, the pace never really letting up for a minute. The Springsteen influence is pretty obvious throughout, with lyrics like "We're burnin' down the highway skyline/On the back of a hurricane" so rooted in America, that there are oil prospectors still trying to get to them. But for all the talk of The Boss and The 'Tasche, Brandon & co still stick to their original influences of 80's synth-pop (namely New Order), which produces possibly the album's best moment in "Read My Mind", a track that could fit comfortably on Hot Fuss (and improve it indefinitely). Toned down vocals and guitars mixed with heavy synths and yet more cliched lyrics, e.g. "Breakin' out of this two-star town" and "the stars are blazing like rebel diamonds cut out of the sun" make for a classi
c Killers song.

Before the record was released Flowers was quoted as saying that Sam's Town would be "one of the best albums in the past twenty years" and that it would be "the album that keeps rock & roll afloat." I'm not too sure about the latter part, but it is definitely one of the best albums since 1986.
For a band who are "morally bankrupt" (© Nicky Wire 2007) they don't half make some great tunes



9/10



xxx