Los Camp!
. The second most punk rock band in Britain. The indiest band in Britain. More indie than The Smiths, more indie than The Cribs, more indie than the entire teenage population of Hoxton at an NME party watching Foals playing a cover of the Skins theme tune.. They're so indie that this isn't even an LP. According to them, it's an Extended EP. I think you get the point. Released only 8 months after their debut
"Hold On Now, Youngster..."
,
"WAB,WAD"
represents a band maturing, growing yet still retaining what made them so special in the first place.
LC! specialise in the kind of wordy, studenty racket that typical Enemy/Oasis fans would hate. Their songs won't be shouted from terraces, sung badly on the way home from Yates's, and noone will be shaking anything to them at any 18ths. But just because LC! aren't in-yr-face mainstream doesn't mean they should be cast aside as a "weird indie band". In their own words,
"we're undeveloped, we're ignorant, we're stupid, but we're happy."

Opening with

"Ways To Make It Through The Wall"
, a swirling piece of electro bleeps, chugging guitars and self-loathing lyrics. Lines like

"
I identify my star sign by asking which is least compatible with yours"
and
"I think you've got it in for us/I think you've got it in for yourselves"
gives the impression we have a second Morrissey on our hands. Gareth Campesinos! doesn't really cheer up much throughout the rest of the album (mu
st have been a pretty bad 8 months since
"HON,Y..."
)
as you can see from song titles such as
"Miserabilia"
.
LC! seem intent on summing up the wasteland between teenagedom and adulthood in this album. How else can you describe a verse like this:
"
As if I walked into the room to see my ex-girlfriend/Who by the way, I'm still in love with/Sucking the face of some pretty boy with my favourite band's most popular song in the background/
Is it wrong that I can't decide which bothers me most?
"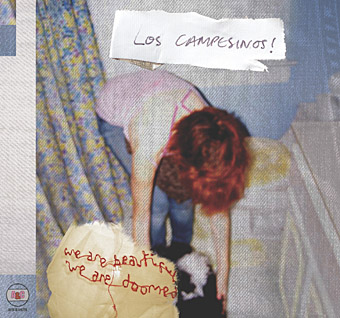 It's not just the ba
nd's lyrics which are superb, the musicmanship has improved greatly from the debut. Where it once had to be everything playing at once in a joyous, overexcited racket, is now restrained or wild when it needs to be. The glockenspiels, keyboards and violins augment the typical guitar-bass-drum
s set up for
the better and let the hardcore punk influence shine through without losing their twee edge or dampening the effect of the lyrics
.




"We Are Beautiful, We Are Doomed"

could turn out to be a significant album for Los Campesinos!. With it's release method (only 5000 copies, free fanzine, DVD, poster and buttons, as well as no singles), it could see them go further into elite indie-ness, shunning the mainstream completely. Or they could possibly become, with an ever-growing fanbase and almost universal acclaim for the album, everyone's favourite outsiders, the underdogs of the 21st century indie scene. For now, they remain a wonderful secret for those who know of them.



9/10

(slightly late review...by 2 months)