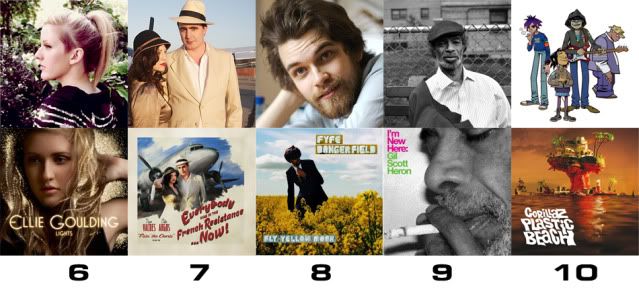 6. Ellie Goulding - Lights
Ellie Goudling is in the exact same position as Florence and her Machine were last year. Topping "ones to watch" lists left, right and centre with a Brit Award before her album's released. That's a lot of expectation on the former folk singer, and it's set her up for a fall. Save for the pure pop gold of "Starry Eyed", "Under The Sheets" and "Wish I Stayed", as well as the really rather good "Every Time You Go", there isn't much to back up the hype. It's all a bit bedroom pop, nowhere near the levels of Florence, La Roux or even Little Boots. I hate to be so negative, given how cute Ellie Goudling looks (she's up there with Zooey Deschanel, Marina and Laura Marling for indie-girl crushes) but "Lights" is wholly unspectacular. Really, I should have expected this, considering she's worked with this
dick
.
SOUNDS LIKE:

Radio 1's wet dream
ESSENTIAL:

"Starry Eyed", "Under The Sheets", "Wish I Stayed", "Every Time You Go"
5/10
7. Everybody Was In The French Resistance... Now! - Fixin' The Charts Vol. 1
Eddie Argos, he of Art Brut fame as well as smelling like eggs fame (from what I've heard from one source) has joined up with Dyan Valdes of The Blood Arm (remember them?) to make...well...an album that sounds like Art Brut going pop. To be honest, it wasn't going to sound like much else, when you take Argos' distinctive half-talking, half-singing style into consideration. Whilst the last two Art Brut albums have been a bit meh, EWITFR...N! (I think I'll just call them The French Resistance from now on) makes Argos sound revitalised with a new lease of life. The chorus of "G.I.R.L.F.R.E.N" is too catchy for it's own good, as will "Think Twice (It's Not Alright)", whilst "Walk Alone" (a riposte to Gerry & The Pacemakers "You'll Never Walk Alone") could possibly become a favourite of Evertonians everywhere (including this one). Okay, it's not life-changing stuff and occasionally a bit too tongue-in-cheek for its own good, but there are worse ways to spend 35 minutes than listening "Fixin' The Charts Vol. 1".
SOUNDS LIKE:

Art Brut, if they'd made it to Top Of The Pops
ESSENTIAL:

"G.I.R.L.F.R.E.N. (You Know I've Got A)", "Think Twice (It's Not Alright)", "He's A 'Rebel'", "Coal Digger", "Walk Alone"
6/10
8. Fyfe Dangerfield - Fly Yellow Moon
After a lacklustre second album, Guillemots have gone on hiatus, allowing amazingly-named frontman Fyfe Dangerfield to go solo. As with Eddie Argos and The French Resistance, "Fly Yellow Moon" doesn't differ greatly from Dangerfield's day job. "She Needs Me", for instance, could slot in perfectly on either Guillemots album, but Dangerfield is a highly underrated songwriter and a world without his songs would be worse off indeed. Opener "When You Walk In The Room" is a bouncy piece of piano-pop that The Beatles would write if they formed tomorrow, and "So Brand New" sees Fyfe switch to '60s crooner mode with good result. "Faster Than The Setting Sun" may veer a bit close to Coldplay territory, but overall "Fly Yellow Moon" is a fine album that should shove Dangerfield's talents further into the spotlight. Now, if we can just get that third Guillemots album...
SOUNDS LIKE:

The best alt-pop songs of the year
ESSENTIAL:

"When You Walk In The Room", "So Brand New", "Barricades", "Live Wire"
7/10
9. Gil Scott Heron - I'm New Here
The godfather of hip-hop has had a rough few years; Gil Scott Heron hasn't released or recorded any new songs since 1994, let alone a new album; has had heavy drug problems, had two spells in jail and contracted HIV. So it comes as no surprise that "I'm New Here" takes on subjects more personal than the political issues of old.Whilst older material was more jazz and beat inflected, "I'm New Here" lends itself more to electronic music. Opening track "On Coming From A Broken Home (Part 1)" pulsating synths give the song a threatening, somewhat aggressive edge, as if Heron's grizzled voice didn't already do that half the time. The album is reminiscent of Johnny's Cash's last few LPs, not as in it's the words of a dying man, and not so much as to sound the same (I can't recall Cash ever delving into trip-hop), but in the intesity and feel of the record, as if Heron has still has a lot left in the tank.
SOUNDS LIKE:

That old guy at the back of the bar, who you think might be a big crazy, but is actually a genius being allowed to record an album.
ESSENTIALS:

"On Coming From A Broken Home (Part 1)", "I'm New Here", "I'll Take Care Of You"
7/10
10. Gorillaz - Plastic Beach
If you can get your head around the entirely bonkers back story cooked up by Damon Albarn and Jamie Hewlett to "Plastic Beach", well, you've got a longer attention span than me. As the whole Gorillaz gets sillier and sillier, the music has improved a whole lot. The previous two albums have never really been favourites of mine, thus I've always considered Gorillaz to be a singles band, but Plastic Beach has proved me wrong. Maybe it's the wealth of collaborations, maybe it's the concept of the album, something has just clicked this time. Maybe all future Gorillaz albums should involve Snoop Dogg, Mos Def, Bobby Womack, Mick Jones, Paul Simonon, Lou Reed, De La Soul and Gruff Rhys, with a bit less Damon Albarn? Don't get me wrong, I love Damon Albarn, but seeing as the best tracks on "Plastic Beach" feature guest stars, it could just work. If tracks that are as playful and layered as "White Flag", "Superfast Jellyfish" and "Rhinestone Eyes" are the future of pop, then colour me happy. The only problem with "Plastic Beach" is that after the title track, it seems to drop off a little. But that's only a minor complaint. After all, there can only be so much genius on one album.
SOUNDS LIKE:

Gorillaz. Nothing else.
ESSENTIAL:

"Welcome To The World Of The Plastic Beach (featuring Snoop Dogg and Hypnotic Brass Ensemble)" "White Flag (featuring Kano, Bashy and The Lebanese National Orchestra for Oriental Arabic Music)" "Rhinestone Eyes" "Stylo (featuring Mos Def and Bobby Womack" "Superfast Jellyfish (featuring De La Soul and Gruff Rhys)", "Glitter Freeze (featuring Mark E. Smith" "Some Kind Of Nature (featuring Mark E. Smith" "On Melancholy Hill" "Plastic Beach (featuring Mick Jones and Paul Simonon"
9/10