>>>HEAD TO HEAD<<<
Little Boots vs Florence vs La Ro
ux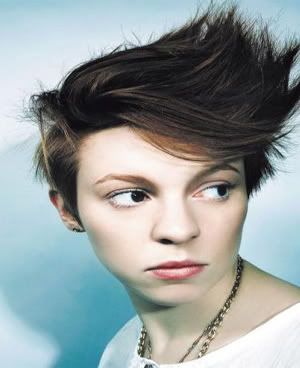 So it's finally happened. After all the hype, tentative interviews, glamourous photoshoots and all the other bollocks that comes with showbiz, the "Three Hot Ones To Watch in Pop 2009" Little Boots, La Roux and Florence & The Machine have finally all released their albums for public consumption on the derision of music snobs (a.k.a me). Impressively Little Boots and Florence have both made the Top 5 in the Album Charts, but La Roux has grabbed a Number One single which puts her in pole position to become the biggest of the three. But enough chit-chat.
LITTLE BOOTS - HANDS
Big catchy pop tunes, a few of which are better than anything Girls Aloud have released (excluding "Love Machine"). "Stuck On Repeat" is one of the pop singles of the year, without a doubt and succeeds where Madonna and Kylie have failed recently in crafting pure electro-pop that is actually worth listening to. Similarly "Meddle" shows Little Boots' talent for a big pop hook, as does "New In Town". But that's all "Hands" is really, choruses. Even Steps and S Club Juniors could do choruses! Even whilst listening to it now, I can't remember "New In Town"'s verses. When she decides to get a bit ravey (e.g. the intro and chorus to "Earthquake") Little Boots has tunes to rule the charts and the clubs. But whilst she decides to peddle schlock like the overly-80s and tired Symmetry, which features The Human League's Phil Oakley (sample lyrics "You're the night to my day/And the left to my right". Anyone else have an almost jaw-breaking yawn at that?) she'll unfortunately be stuck dangerously close to the pop scrapheap. I'd advise sticking to singles, but then again I have no bearing over anything in music really...at least she's better than The Saturdays.
ESSENTIAL TRACKS: "New In Town", "Earthquake", "Stuck On Repeat"

FOR FANS OF: Madonna, Kylie, Girls Aloud anything big and shiny and pop

5.5
FLORENCE AND THE MACHINE - LUNGS
Or the non-electronic one as she may be seen as. Barely a hint of synth or keyboard anywhere on this album, which leaves Florence seeming more human, more real than tired, boring mainstream pop (Little Boots) or cold, expressionless 80s revivalism (La Roux). Oh, and the fact that she dress like a woodland sprite and is a mainstay on the London scene, but we'll brush past that. "Lungs" is the most ambitious out of the three, with some big orchestral ideas just beneath that "modern Kate Bush" exterior. "Dog Days Are Over" and "Rabbit Heart (Raise It Up)" should be pretty familiar to anyone who's listened to Radio 1/read NME in the last year, as they showcase Flo's good set of lungs (awful pun, sorry) and ear for a tune. Much of the album follows suit, with liberal use of harp and various other folksy elements along with the mystical or magical feel brought on by the lyrics. The only time "Lungs" diverts from the style is for the early White Stripes-aping "Kiss With A Fist" and "Girl With One Eye" which is so bluesy that I imagine it being sung in a smoky bar somewhere in the American south. However, the foresty, folksy schtick does begin to grate after a while with a handful of tracks indistinguishable from each other but skip past them to get to the good stuff.
ESSENTIAL TRACKS: "Dog Days Are Over", "Rabbit Heart (Raise It Up)", "I'm Not Calling You A Liar", "Kiss With A Fist", "Girl With One Eye", "Between Two Lungs", Cosmic Love", "Hurricane Drunk"
FOR FANS OF: Kate Bush, Laura Marling, Bat For Lashes, Lightspeed Champion
8
LA ROUX - LA ROUX
La Roux are already on the path to being big. A duo with a public face and a producer beavering away in the background, a unique look, possibly iconic album artwork and of course a Number One single and a Number Two album (thanks to a certain Mr Jackson). Whether they're a retro-futurist pop act to be loved or shameless 80's revivalism to be discarded is an arguement that will rage on for quite a while, but personally, they land somewhere inbetween. The tinny synths of "In For The Kill" as well as the Thriller-esque spoken word middle-eighth belong back with the miners strike and Thatcher, whilst drippy ballad "Cover My Eyes" is sooooo 80s that the video for it would involve a smoke machine with a black background, a slightly out of focus camera, lots of pastel and Elly Jackson on a stool. I don't care if she broke down in tears after recording it, it's shite. But apart from this and the plodding "As If By Magic" and "Reflections Are Protections", "La Roux" is a suprisingly good, modern pop record. It manages to steal the theme of heartbreak from country & western/crappy emo and bring it to the euphoria of electronica without being too cheesy or heavy-handed. Elly Jackson's voice, which trembles between annoyingly fragile and ear-bleedingly shrill often within the same verse, may make it a bit hard to like as well as her looking like the most twattish of LDN scenesters, but don't be suprised if she gathers a few more Number Ones in future.
ESSENTIAL TRACKS: "In For The Kill", "Quicksand", "Bulletproof", "I'm Not Your Toy", "Fascination"
FOR FANS OF: Little Boots, Ladyhawke, Lady Gaga, Passion Pit, Erasure, Eurythmics
8.5